Root Revival Smoothie Blend
Sale price Price €24,99 Regular price €28,99 Unit price / per
Tax included.
Performance · Recovery · Flow
Makes 10-12 Smoothies. Equivalent to 2.5 Kg Fresh Berries & Roots. 100% Organic.
Perfect for after your workout or yoga flow. This 100% organic Superfood Smoothie powder is an all-natural way to maximize the benefits from your workout.
Our evidence-based Smoothie recipe gives you a performance boost with natural nutrients from strawberries, black currants and beetroot for muscles regeneration and optimal blood flow.
Whether HIIT, endurance or yoga, this Root Revival Smoothie helps you live and love a super active lifestyle.
Your perfect recovery smoothie:
Complete smoothie recipe, just add water
Fresh & delicious in just 1 minute
100% freeze-dried Fruits & Vegetables (100% Organic)
High-quality & natural nutrients
All-natural vitamins, minerals & fiber
2.5 servings of berries & beetroot per smoothie
Only 80 calories per smoothie
One package equals 2.5kg of fresh Fruit & Veg 
No added sugar, no stevia, no preservatives & no funky ingredients
Ingredients
Organic Strawberry
Juicy and packed with vitamin C, manganese, folic acid and potassium! The folic acid in strawberries improves metabolic processes such as cell division and cell growth, which are essential for muscle strength. Strawberries provide you with the right nutrients for muscle regeneration and recovery after exercising. This is why this sweet and local superfood is the foundation for this smoothie blend.
Organic Black Currant
Also known as Cassis. This is the superfood berry for any active life! Rich in anthocyanins, these berries have been extensively researched for their positive impact on muscle regeneration and blood circulation. Even better, black currants have a beneficial effect on your immunity by reducing oxidative stress and inflammation. With this local superfood berry, your Smoothie is an all-natural performance enhancer!
Organic Beetroot 
Beetroot increases your endurance and muscle regeneration. Extensive research has demonstrated that the nitrates found in beetroot can increase oxygen transportation to your muscles and reduce cardiovascular stress. beetroots have been shown to improve performance for endurance sports and HIIT workouts. For your clean recovery, beetroot could not be missing in this Smoothie Blend.
Nutritional Values

Preparation
Shake your perfect smoothie

Fill a bottle or jar with 250ml cold water.
Add 3 tablespoons (25g) of Root Revival, close & shake well until combined.
Let it re-hydrate for 30 seconds & enjoy!
Pro-Tip: Shake your Smoothie before your workout and store it in the fridge, so can you have a refreshing Smoothie right after!
#freetheblender
Inspiration
Milkshake Revival
Instead of water, shake a 25g serving of Root Revival with 250 ml of oat milk. It's a creamy, delicious and ultra healthy alternative to a milkshake!
Root pancakes
Pancakes with Root Revival for the perfect breakfast before or after exercise - add 25g Root Revival and a dash of plant-based milk to your pancake recipe!
Kundenbewertungen
04.19.2021
Lena K.

Germany
Ich empfehle dieses Produkt
Tolles Produkt & super einfache Zubereitung!
Schon beim Öffnen der Tüte riecht das Smoothie Pulver unglaublich intensiv und gibt einem direkt das Gefühl, gleich frische Früchte/Veggies zu konsumieren. Ich bin von der Verwendung echt begeistert. Super unkompliziert, schnell zu Shaken, kein Klumpen und der Smoothie hat eine tolle Konsistenz - wie selbst gemixt. Empfohlen werden 3 EL Pulver auf 250ml Wasser aber ich finde auch schon 2 EL reichen für einen leckeren Smoothie aus. Geschmacklich hat mich Root Revival echt überzeugt. Er ist nicht sehr süß (was ich persönlich gut finde) und die beiden Beeren und die Beete kommen wirklich gut zur Geltung. Ich kann das Produkt wärmstens empfehlen und freue mich schon die beiden anderen Sorten zu testen!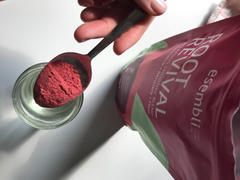 Ich empfehle dieses Produkt
MEGA lecker und easy zuzubereiten
Es schmeckt einfach richtig lecker und natürlich, so als hätte ich alles selber in den Mixer geworfen. Nur ist es viel einfacher, weil ich es lediglich mit Wasser in meinen Shaker gemixt habe und fertig war es. Kein verklumpen und es ist zum Glück auch nicht süß. Das perfekte gesunde Frühstück, vor allem wenn man morgens eben mal nicht so viel Zeit hat, um sich selber seinen gesunden Smoothie oder Saft zuzubereiten. Die perfekt Alternative wenn es schnell gehen muss!! I Love it.